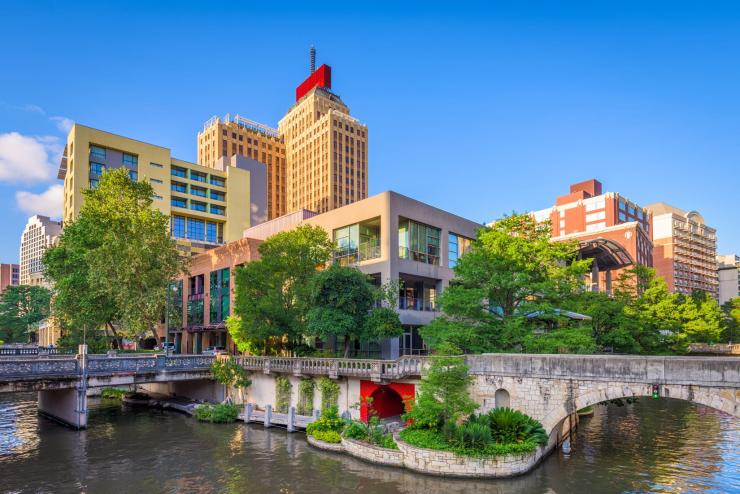 Every year 31 million people visit San Antonio. It's easily one of the most popular leisure destinations in the country. There's no shortage of sights, entertainment and events, which is a good problem to have when you're planning a San Antonio vacation.
If you're putting together a trip itinerary, here are seven fun things to do in San Antonio on your first visit.
1 – See the Alamo
As touristy as it may seem, every visitor has to see the Alamo while they're in San Antonio. It's a unique museum in that the fort itself houses everything. You get to see it from the inside just as David Bowie and many other valiant Texans did as they fought for independence. 
The Alamo is a piece of American history, which makes it a must-see attraction in San Antonio. 
2 – Try a San Antonio Escape Room
Even though escape rooms are gaining in popularity, you still can't find them in every city. San Antonio visitors are in luck. They have their pick of not one but two Extreme Escape locations. 
We were among the first to introduce the concept of an escape room in San Antonio, and we've continued to innovate ever since. At Extreme Escape, there are four unique adventures at each location. Groups of up to 10 people work together inside the live-action game in order to make it out within an hour. 
Families love escape rooms because they're loads of fun for kids and adults. However, some escape room themes may be better suited for adults and teens only. 
3 – Take a Boat Ride Down the River
The Riverwalk is one of the most well-known and unique features of downtown San Antonio. At some point, every visitor ends up strolling along the Riverwalk. That's when you'll see the gondolas and tour guides that give visitors a one-of-a-kind view of the city from the water. We recommend taking a guided boat tour so you can hear interesting tidbits about San Antonio while getting fantastic photos. 
4 – Spend a Day at the San Antonio Zoo
Not far from the Alamo there's a jungle with thousands of exotic animals. The San Antonio Zoo is 35 acres of outdoor fun. The natural habitats, cageless areas and hands-on experiences give visitors a closer look at 750 animal species. 
You could easily spend an entire day exploring the zoo. If you plan to go in the summer it's important to stay hydrated, wear sunblock and plan lunch so that you aren't outdoors during the hottest hours of the day.
5 – Go to the Top of the Tower of the Americas
Want to see the best view in San Antonio? The Tower of Americas stretches 750 feet above downtown giving you miles of unobstructed views. The observation deck wraps all the way around the tower. Inside you can reserve a table at the Chart House, a revolving restaurant.  
6 – Watch the Rodeo 
Two million visitors plan their San Antonio trip specifically to attend the San Antonio Stock Show & Rodeo in February. It's a 2+ week affair that brings out the best in rodeo and country music. There's also a petting zoo, horse shows, pig races, cowboy boot camp and tons more family-friendly fun. 
If you aren't in town for the world-famous San Antonio Stock Show & Rodeo, you can still get a true taste of the Texas cowboy life at Tejas Rodeo Steakhouse and Saloon. From March and November, guests are treated to a rodeo show and delicious bbq. 
7 – Take a Stroll Through the Japanese Tea Gardens
Right next door to the San Antonio Zoo is the famed Japanese Tea Gardens. It's among the top tourist attractions and a favorite outdoor oasis for locals. The gentle streams, koi-filled ponds and cliffsides covered in greenery makes the meticulously maintained park a quiet hideaway in the middle of a busy city. Grab a refreshing tea at the cafe before heading out for a peaceful stroll.