Mutiny
PIRATE THEME ESCAPE ROOM GAMES FOR THE WHOLE FAMILY
The infamous pirate, Captain Alex Issigonis, has captured you and your group of scallywags and locked you away in the ship's hold. He has charged you with mutiny for trying to take over his ship.
Captain Issigonis had intended to maroon you on a deserted island, however the storm at sea is getting worse. He knows there is nothing he can do now but abandon his ship. The crew has left and there is no one aboard to help you.
You have just 60 minutes before the ship plunges into the eye of the storm. Your "key" to surviving is to find a hidden way out of the hold. Think like a pirate or face the abyss!
Game Details 





Record Time
23:45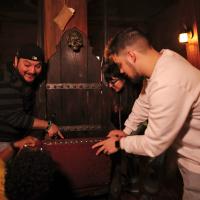 Try to Escape the Room Before Time Runs Out!
Fun Room Escape Games For All Ages
Mutiny is a popular real life room escape game for both kids and adults. It's a great way to celebrate a birthday, treat your team to a unique experience or just have some maritime fun.
Groups of up to 10 people must work together to solve the clues and puzzles to find a way out of the ship's hull. This escape room adventure is designed for everyone age 9 and older. You'll have 60 minutes to get through the interactive elements to get off of Captain Issigonis's ship before it sinks!
Can You Escape This Room? Find out by booking your real life room escape adventure today!
Scroll Banner